Band Members
Basic details for each member.
Tony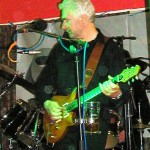 Singer & Guitarist
Tony Eaton started as a singer whilst still at school with a band that supported many famous names in the '60s. After school, he toured Scandinavia and Germany with two fellow musicians before the authorities caught up with him whilst at the Star Club in Hamburg and he had to return to England to get a work permit. This miscalculation meant his music career went on hold after he renewed his friendship with a beautiful girl by the name of Sue.
Following a fallow period of career and family, Tony met some fellow enthusiasts in 1995 and started a cooperation that, after a few years, became Jurassic Rock.
As far as musical taste is concerned, Tony finds it difficult to come to terms with opera & the far reaches of modern jazz and struggles to identify rap as music, but he enjoys listening to all other genres. In particular, he likes blues/rock and especially admires guitarist Rory Gallagher.
For more information about Tony, click here.
SPEWY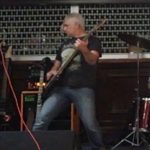 Bass
Spewy started life as a guitar player some years ago and drifted into playing bass quite by accident, which probably suits his personality better!
He is heavily influenced by bands like Gojira, Motorhead and AC/DC, which means the bands he has played in over the years have included a Doom Metal Outfit. Whilst he has previously preferred to play on the heavy side, he is now also enjoying some more mainstream rock 'n' roll.
Spewy is currently playing a modified 5 string Fender bass through a Mesa Boogie amp and Trace Elliott cabinets.
He is also rather partial to Carlsberg Special Brew and is convinced that regular lubrication can only improve his performances, so don't be shy!
PAUL
Drums
Paul Lamy was drawn to percussion at a very early age and there is photographic evidence of him "playing" the piano at about 6 months!
As he grew up, Paul watched his dad playing music with friends and was allowed to duet with him on keyboards from time-to-time. However, Paul was drawn to the crash-bang and energy of the drummer and started to play drums in earnest from the age of 14.
Over the next few years, he played in blues and punk bands until work and family commitments became too demanding, forcing him to put his music career on hold – until now. He's now back and is excited at the prospect of playing with like-minded musicians in Jurassic Rock.
Because of their versatility, ease of transport and speed in which they can be set up and taken down, Paul prefers electronic drum kits. He now has a Alesis Crimson II, which he plays through a Laney AH300 amplifier.
Recent Posts
Recent Comments
Categories
Meta