Band Members
Basic details for each member.
Tony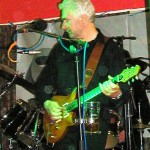 Singer & Guitarist
Tony Eaton started as a singer whilst still at school with a band that supported many famous names in the '60s. After school, he toured Scandinavia and Germany with two fellow musicians before the authorities caught up with him whilst at the Star Club in Hamburg and he had to return to England to get a work permit. This miscalculation meant his music career went on hold after he renewed his friendship with a beautiful girl by the name of Sue.
Following a fallow period of career and family, Tony met some fellow enthusiasts in 1995 and started a cooperation that, after a few years, became Jurassic Rock.
As far as musical taste is concerned, Tony finds it difficult to come to terms with opera & the far reaches of modern jazz and struggles to identify rap as music, but he enjoys listening to all other genres. In particular, he likes blues/rock and especially admires guitarist Rory Gallagher.
For more information about Tony, click here.
SPEWY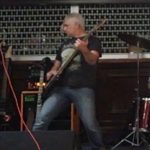 Bass
Spewy started life as a guitar player some years ago and drifted into playing bass quite by accident, which probably suits his personality better!
He is heavily influenced by bands like Gojira, Motorhead and AC/DC, which means the bands he has played in over the years have included a Doom Metal Outfit. Whilst he has previously preferred to play on the heavy side, he is now also enjoying some more mainstream rock 'n' roll.
Spewy is currently playing a modified 5 string Fender bass through a Mesa Boogie amp and Trace Elliott cabinets.
He is also rather partial to Carlsberg Special Brew and is convinced that regular lubrication can only improve his performances, so don't be shy!
JOHN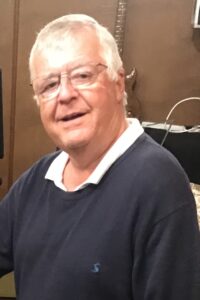 Drums
At the age of 14, John played his first gig in his hometown of Brighton with The Jet Blacks, who later became The Motion.
Leaving The Motion after a couple of years, John joined Renaissance Fayre. Although based in Brighton with its thriving beat scene, Renaissance Fayre played all along the south coast and in acclaimed venues such as Hatchets, Wardour Street and the Forty Thieves, Coventry. Amongst many others, the Band supported Simon Duprey & the Big Sound, Status Quo and Jimmy James.
From the age of 20, John's work and family commitments limited his playing to special events with impromptu groupings plus school concerts and productions such as Joseph and the AmazingTechnicolour Dreamcoat.
With the simple philosophy that age is not important, hair less so and with the support of a great (if long suffering) wife, John has joined Jurassic Rock for the pure fun of playing great music with like-minded musicians.
DAVID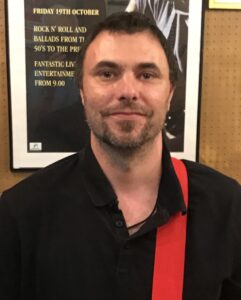 GUITAR
David started playing guitar at the age of 15. Growing up, he was inspired by the British punk scene such as the Sex Pistols, the Clash, the Jam and, of course, Ian Jury. He went on to play in a local punk band called "No Fun". Sadly and inexplicably, the local village did not appreciate their anti-establishment music, Mohican hair cuts and studded jackets.
As a big believer that music is great for the soul, David's main musical inspirations are Bob Dylan, James Hetfield and Elvis Costello.
A very proud family man, David loves nothing more than playing music with his wife and children, not to mention with the other members of Jurassic Rock!
His main guitar is an upgraded Westfield Les Paul, which he plays through a Black Star HT stack.
David joined Jurassic Rock to get back to the roots of some amazing rock 'n' roll and looks forward to rocking the nation. Bring it on!
Recent Posts
Recent Comments
Categories
Meta