Browsing all articles in News
If you are planning a party for someone 60 or over, you will want the music of your era. Book Jurassic Rock before 10th March for just £350 plus travelling expenses. The party can be for any date between now and the end of 2020, just book us before 10th March 2019 to secure this special offer.
One of those rare public gigs is coming up on 18 November.  We are playing at the Fox & Hounds, Chapel Street, Steeple Bumpstead  CB9 7DQ.  Entry is free, the ale is outstanding and the music will be great!  We look forward to seeing old friends and making some new ones.
One of those rare public gigs will be in Epping on 23 February.  Details in poster (click on thumbnail to enlarge).  Tickets from Ian or me.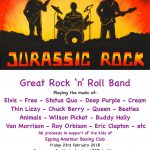 This New Year's Eve will be our 5th at the Royal Burnham Yacht Club.  We are looking forward to another fun-filled evening with the usual culinary delights and superb company.
Recent Posts
Recent Comments
Categories
Meta