The Zooids
THE ZOOIDS
THE FIRST ROCK BAND FROM LATTON BUSH SCHOOL, HARLOW
FOREWORD
This is a brief history taken almost entirely from my recollection of events. If it brings memories for anyone, I would be pleased to hear from you and would welcome comments, enhancements and additions. If you don't want to wade through the detail, skip to "The Basic Facts" at the end.
CONCEPTION
The exact moment of conception is uncertain. It must have been somewhere early to mid 1964, when we were 16, that Trevor Sharpe and I spent many hours in our bedrooms working out how to play songs from the hit parade on our cheap acoustic guitars.
Undaunted by our previous lack of progress in music lessons and inspired by groups like the Beatles, the Hollies, the Rolling Stones, etc., we persevered. As things developed, I usually played the melody whilst Trevor played the accompaniment, which naturally led to us into playing lead and rhythm respectively.
With a few songs under our belt and as most bands of the day (or as they were called then, "groups") had two guitars, a bass and drums, we needed to expand. Terry (Tom) Smith played the drum (note the singular) in the Boys' Brigade and was an obvious candidate. Mick Phillips showed an interest and, although he couldn't play, he was recruited as the bass player. Trevor and I started teaching Mick the bass parts whilst we set our minds to acquiring the required equipment.
GESTATION
The foetal growth of the Band was complicated by lack of money, which was exacerbated by Mick being a southpaw and left handed basses commanding a premium. (Trevor was also left handed, but his natural inclination was to play the guitar right handed, a trait he shared with famous guitarists such as Gary Moore and Mark Knopfler.) We overcame the cash flow problem by making an electric guitar, a bass and a guitar amplifier. Trevor's parents bought him a guitar, whilst Tom and his parents obtained a set of drums.
I had an immediate difficulty in that, due to what Mr Swinford (head of crafts) termed, "a clash of personalities", Mr Forder (a woodwork master) had banned me from his woodwork shop. I approached Mr Graty (another woodwork master), who agreed to allow me to use his workshop during lunch times and after school.
We acquired parts from catalogues and on one rather memorable journey to London, when everyone went in Mick's motorbike and sidecar in the pouring rain.
This journey wasn't the only hairy moment. Several people were working on the amplifier and I was holding the metal chassis when someone turned on the power! The shock was so severe, I thought I had been kicked me in the back, but it couldn't have been too bad as I lived to tell the tale.
An unusual name was required and so we opened the dictionary at the letter Z. The word ZOOID caught our attention as one of the definitions was "progeny of non sexual reproduction", which was suitably bizarre. The unusual pronunciation was also appealing, i.e. "zo-oid" (rhyming with "so void"), rather than the more obvious "zoo-id" (rhyming with "you did"). We had a name – the Zooids were now ready to rock 'n' roll.
BIRTH
Having made the basic equipment, rehearsals started in earnest, mostly in our parents' front rooms. Theory retained from our music lessons helped us learn songs of the era. This was occasionally from sheet music, but usually by trial and error.
Mick and Trevor showed a talent for harmony, which left me singing the lead parts in most of the songs. Largely because of very good backing harmonies, the vocals started to become the Band's greatest strength.
After a relatively short time, the repertoire was large enough to constitute a decent length set and the time had come to look for gigs. Geoff Lindsay was recruited/coerced/inveigled his way in (no one was ever certain which) as the Band's manager. His job was to find gigs and to make the necessary arrangements. However, his approach towards his duties was at best relaxed and, years later, he admitted his title was little more than honorary.
INFANCY
For such a new band, bookings came surprisingly easily. There were a considerable number of youth clubs, social clubs and village halls and the demand for live music was high. Within a relatively short time, we were doing one or two gigs a month, whilst increasing our repertoire and gaining experience.
Unfortunately, there was a problem: I was finding it difficult to sing lead and to play lead guitar. This came to a head at a dance at a packed Mark Hall School where the Zooids were supporting the Cherokees, a band on the verge, but never quite making it to the top. It should have been a great gig, but I made too many mistakes and so the night was spoilt.
It was obvious that I couldn't cope and so Mick's younger brother, David "Dink" Phillips, was brought in as lead guitarist.  Dink's playing was tight and he made few mistakes – the new line up was a much better balanced unit.
CHILDHOOD
The Band continued to improve. The vocals, already our strongest feature, got better now that I could give singing my full attention. This improvement was enhanced by an upgrade in the equipment, which made the vocals prominent – an unusual feature as in most groups the instruments drowned the singers.
The improved equipment came about by the purchase of a Selmer Treble 'N' Bass amplifier, two new public address speaker enclosures and, most importantly, Mick's dad, who knew something about electronics and taught us how to get the most from our still rather rudimentary gear. This meant that, even though we weren't the most musically accomplished, the Zooids sounded at least as good as their contemporaries.
(As an aside, the total output of our equipment was around 150 watts with speaker efficiency at around 100 dBs. An average semi-pro band's amplifiers today would total between 1500 and 3000 watts, but this would only result in little more than a doubling in volume. The main improvement has been the increase in speaker efficiency to about 140 dBs. This gives bands of the noughties a higher quality sound and the potential to be 6 times louder than their 1960's counterparts, which is not necessarily an improvement to the ears of some!)
Having outgrown our parents' front rooms, we asked if we could use the school hall and we were allowed to practise there once a week. In return, we agreed to play at school dances for nothing.
Our reputation wasn't enhanced in the first instance as people hearing us learning new songs and repeating the parts we needed to improve, made comments like, "you always play the same song."  Things looked up after the first dance with a grudging, "you're not so bad" and very occasionally reached the dizzy heights of, "you're quite good, really".
ADOLESCENCE
Over time, the Band acquired a following. On most gigs, we were accompanied by ten or twelve groupies/hangers-on and the functions' organisers only knew who was in the band when we started playing. A number of people made "guest appearances", but the core of the Band remained solid.
Dink was the youngest at an age when a couple of years made a lot of difference and so he was slightly in awe of the rest. Tom and Trevor were laid back and non-confrontational, but Mick and I were often at loggerheads. Although we disagreed frequently, the arguments were rarely serious as we each recognised that the other had the best interests of the Band at heart.
Transport was a problem. Mick came up with a battered old Morris Minor van, but I had to drive as Mick had the dubious distinction of having been banned before he had even passed his test. The "bandwagon" was invariably overloaded, which exacerbated the slipping clutch and it was sometimes necessary for passengers to disembark so it could get up a hill.
The van was occasionally replaced or supplemented by a 1952 Morris Minor convertible that I shared with my mum and sister, Lesley. The normal top speed of 50 m.p.h. was reduced to 40 by overloading it to a point that would be illegal today and was probably then.
Fuel was a constant problem. Five shillings (25p) was usually the most we could afford at any one time (petrol was about 2 shillings (10p) a gallon). It was paid from the Band's fees, which were, at most, £5.00 per gig. Frequent calls to the garage for small amounts of petrol did not enhance our reputation with the forecourt attendants.
Being a member of a band did not quite bring us the hoped for hoards of sex-craved girls, but exotic locations like Cheshunt Grammar provided temptation that I, for one, found impossible to resist. To our initial amazement, boys from other Harlow schools told us how lucky we were to go to Latton Bush because the girls were so attractive. As we'd grown up with these girls from the age of 11, by the time we were 17 we needed outsiders to point out that we need look no further than our own doorstep for a wealth of talent.
ADULTHOOD
Sad to say, the Zooids didn't mature, as we disbanded in 1966. Mick, a guitarist called Rob and I formed a group and travelled through a number of European countries, but attempts to get gigs were half hearted. We returned home to get German work permits and, although we intended to go back, I renewed my friendship with a beautiful girl by the name of Sue, who proved irresistible. Having left my possessions in Dusseldorf, I had to arrange for them to be returned. I can't remember the name of the girl in whose flat I left my suitcase, but I can remember that it cost the vast sum of £8.00 for her to send it to me.
In 1987, I met David Phillips and his mum.  David worked in the family business. Mick had continued to play professionally, but he hadn't been able to make a living from music and, if my memory is correct, had helped his father-in-law run his business. However, at the time I met them, Mick was playing in the U.S.A.
ENCORE
When we were in our early twenties, Mick came to see me.  I had just married, was working as an accountant and studying for professional qualifications.  Mick was living in London working as a musician, but the competition was fierce and he made ends meet by trading music equipment. Although life was hard, Mick said that the buzz and satisfaction he got from playing made up for the hard times. He added that his friends were a source of strength, my friendship being of particular importance. At the time of writing that was the last I saw of him or heard from him.
REPRISE
In 2009 Val Flight-Steward contacted me as she was helping to organise the 50th anniversary reunion in the old school hall and agreed it would be good if we could get the original Zooids line up to play. Trevor Sharpe had come across the Jurassic Rock web site and been in touch and so I had his contact details. We placed an article in the local papers and so found Terry "Tom" Smith. Although we tried everything we could think of, including going back to their old home and knocking on their neighbours' doors, we were unable to find Mick or David "Dink" Phillips. This was a shame, but we decided to go ahead as I could now play the guitar parts as well as sing and my son, Paul, could deputise as the bass player.
It transpired that both Trev and Tom had maintained an interest in music. Trev had a Gibson Les Paul and, although he had not performed since the Zooids had disbanded, he had become a regular bedroom musician. Tom had continued to play in various bands for several years and so, although he hadn't played recently, he was keen to do so again.
We trawled through old exercise books containing original Zooid play lists and decided on a set comprising eight numbers. We had one rehearsal before the big night, which went without a hitch, each person proving they still had it (to a greater or lesser extent) and performing to their very best. Attracting something in the region of 300 past pupils and staff, the reunion was an unqualified success, although the Zooids' performance meant something to only the few who were contemporaries of the band members.
We enjoyed performing together again even though it was tinged with sadness at the absence of two key members and pathos as this was, in all probability, the swan song of Latton Bush's first boy band!
THE BASIC FACTS
Formed: 1964
Disbanded: Mid 1966
"Classic" Lineup
David "Dink" Phillips: lead guitar. Became a motor mechanic
Michael "Mick" Phillips: bass guitar & backing vocals. See above for further information.
Terry "Tom" Smith: drums. There was an unconfirmed suggestion that he went into advertising.
Trevor "Trev" Sharpe: rhythm guitar and backing vocals. Became a marketing consultant.
Anthony "Tony" Eaton: lead singer. Became an accountant.
Reprise gig: Latton Bush 50th Anniversary reunion, 5th September 2009
Play List

| | | |
| --- | --- | --- |
| All My Loving | I'm Alive | Rocking Robin * |
| And I Love Her | I've Got That Feeling | Roll Over Beethoven |
| Around & Around* | It's My Life | Route 66* |
| Fortune Teller | Louie Louie | Tell Me Why |
| Girl | Memphis Tennessee | Till The End Of The Day |
| Groovy Kind Of Love | Midnight Hour* | Tobacco Road* |
| Heat Wave | Money | Under The Boardwalk |
| Homeward Bound | Mr Tambourine Man | What You Gonna Do About It? |
| Honey Don't | Please Mr Postman* | What'd I Say? |
| House Of The Rising Sun* | Poison Ivy* | You're No Good |
| Zip A Dee Doo Dah | | |
*Played at the reunion 5th September 2009.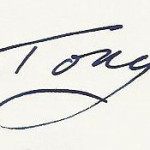 Tony Eaton
Recent Posts
Recent Comments
Categories
Meta