Browsing all articles in News
As with everything else in the country, Jurassic Rock "closed down" for 2020. Unable to gig, we, like all other bands, lost whatever momentum we had and will have to work hard to get gigs once the lockdown is lifted.
It is also the year in which we have to report with very heavy hearts that Ian McNorton, our bass player, died. His year had been even more harrowing than most as he had to nurse his wife through months of dementia, during which time she was confined to her bed and entirely reliant on Ian. During her illness, Ian had a mild stroke, which made his task even more difficult, but he managed with help from his sister-in-law and social services. Several months after her death, Ian had another stroke and was admitted to hospital where he contracted pneumonia and died. We are all very sorry to have lost you Ian, and will miss you as a friend and fellow musician.
One of those rare public gigs is coming up on 18 November.  We are playing at the Fox & Hounds, Chapel Street, Steeple Bumpstead  CB9 7DQ.  Entry is free, the ale is outstanding and the music will be great!  We look forward to seeing old friends and making some new ones.
One of those rare public gigs will be in Epping on 23 February.  Details in poster (click on thumbnail to enlarge).  Tickets from Ian or me.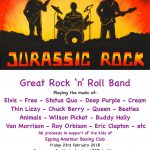 This New Year's Eve will be our 5th at the Royal Burnham Yacht Club.  We are looking forward to another fun-filled evening with the usual culinary delights and superb company.
Recent Posts
Recent Comments
Categories
Meta