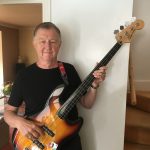 We are delighted to announce that Ian McNorton has joined us as our new bass player.
After Yeti had to leave at the beginning of the year, we needed to find someone a bit special to replace him.  I spoke to Ian early in the year, but we were unable to do much more whilst I sorted out my new knee.  As I am now up and running, we have been rehearsing with Ian for a couple of months and are pleased to announce we are now gig ready.
We are lucky to have found Ian as he not only has a wealth of experience, he has blended into Jurassic Rock extremely well imparting his own take on our numbers and introducing a few of his own whilst we retain the essential Jurassic Rock vibe and sense of fun.
For more information on Ian, click here.
Recent Posts
Recent Comments
Categories
Meta